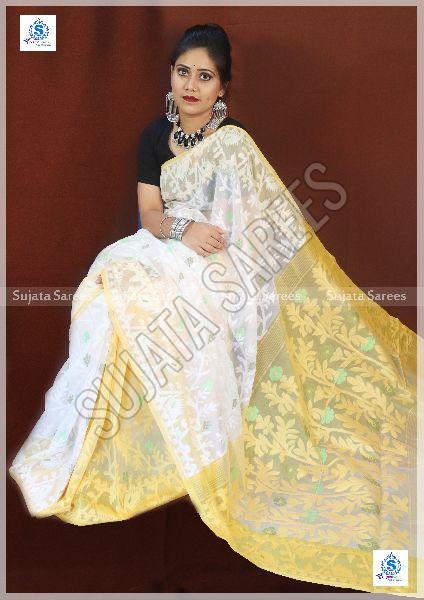 The word Jamdani found its existence in the Persian language. It is a mix of two words Jam and Dani which means flower and jar. It is also described as a jar of flowers. Jamdani is a saree weaving technique that has gained huge popularity over the years. Nowadays you will find many models walking the ramp flaunting exquisite jamdani work on their sarees. Jamdani is also popularly known as muslin cloth contains weave of mainly white and grey and at times a combination of cotton and gold thread.
Jamdani weaving found its roots in Bangladesh's affluent heritage and rich culture. For decades, the capital of Bangladesh Dhaka and Narayanganj in the country emerged as the hubs for popular Jamdani handlooms. The cost of Jamdani fabric gets high due to the time-consuming manufacturing operation and labor-intensive. It used to be the favorite fabric of royals in earlier times.
Jamdani saree is believed to be an excellent variety of muslin handwoven from cotton. The art received great prominence during the Mughal era. Right from the start, the Jamdani technique got huge popularity all over the world. The art blossomed, especially in the Mughal era. Today many prominent weavers of Jamdani sarees reside in West Bengal. So, trust the Jamdani saree suppliers in India for acquiring an flawless range.
Today, the Jamdani technique has bloomed to a greater extent and many consider it as one of most prized possessions all across the globe.
Earlier, Jamdani sarees were manufactured in a variety of contrasting bright hues. Now a huge number of Jamdani sarees are colored. The half and half Jamdani variety has attained great popularity. Presently, self-colored style and a half and half style Jamdani sarees have become favorites of many women. In the self-colored style Jamdani saree, the work is done in a similar color as the base fabric while in the half and half style, the inner and outer halves are done in complementary colors. Several changes have taken place in the Jamdani technique. Earlier, the motif was made on the grey color fabric. With the passage of time, fabrics in different colors begin to be used. Earlier, Jamdani work on red fabric received huge popularity.
Jamdani sarees differ in appearance from one region to another region. The Dhaka Jamdani has emerged as the original and one of the finest sarees. It may take a period of nine months to one year to weave a Dhaka Jamdani saree. Another popular Jamdani sari is Tangail Jamdani. It is woven in the Tangail district of Bangladesh. These sarees contain broad borders and highlight lamp, lotus, and fish scale motifs. Shantipur Jamdani sarees are also equally popular and they are woven in West Bengal's Shantipur. These sarees appear quite similar to Tangail Jamdanis. They offer the finest texture to Jamdani sarees lovers. These sarees are frequently adorned with stunning striped motifs.
How to recognize a Jamdani Saree:
1. The real Jamdani sarees are manufactured from top quality cotton muslin. The fabric is quite soft and thin in appearance. It helps in making the saree ultra-light and airy.
2. The sarees can be instantly recognized by the stunning ornamental motifs woven on fabric.
3. Jamdaani sarees always offer floral motifs and you will spot diamond shapes, lotus, lamp, fish, and paisleys shapes on these sarees.
4. The cost of a real Jamdani saree begins from approximately Rs 2500.
Therefore, we can conclude here that you can buy eye-catchy Jamdani saree from the leading Jamdani Saree Manufacturers in West Bengal. When you wear these sarees, you will certainly be able to highlight the best features of your body.