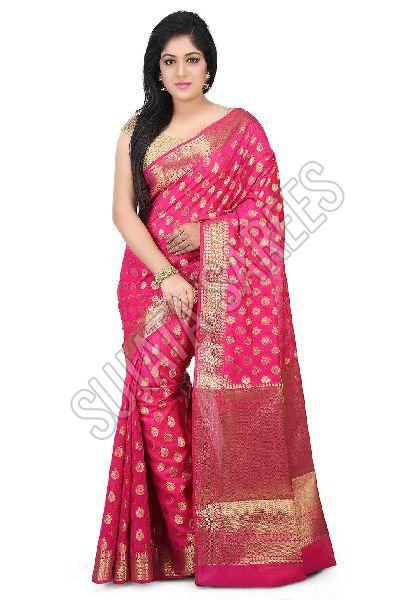 The Chanderi sarees are the exquisitely hand-woven sarees and originally belongs to a small town in Ashok nagar district of Madhya Pradesh. Basically, this saree is a mix of cotton and silk. These sarees were the most preferred attires among the queens and princesses of ancient times and are still a symbol of royalty. The Chanderi silk sarees symbolize a rich monarchy that reflects the grandiose of an era.
These sarees are highly in demand as they are weaved with intricate detailing by skilled weavers. It takes about eight days for two people to weave a single Chanderi silk saree. This traditional method of hand-weaving has been passed on from one generation to another.
The beauty of the sarees lies in their simplicity, elegantly designed aanchals, and beautiful borders. They are suitable for casual as well as special occasions. These sarees are made available in numerous designs, colors, and patterns. From bright, vibrant and catchy shades to subtle, soft pastels, everyone can get the favorite colored Chanderi saree from the market. The most unique feature of this saree is its transparency which imparts an unmatched sophistication. Overall, adding glamor to your look, the Chanderi saree gives an additional traditional touch.
Here are some reasons why you shop for Chanderi silk sarees –
• Suitable For Indian Climate:
These sarees are lightweight, comfortable and perfect for the Indian weather. The Chanderi silk sarees give a soft touch to your skin and are breathable to suit the summer days in India.
• Perfect For Parties and Functions:
The exclusive and distinct prints of these sarees make them the perfect addition to any woman's wardrobe. The Chanderi silk sarees come with tiny, intricate designs or bold, block prints and can have floral textures or stripes. You can also find the most famous Chanderi sarees, decorated with vibrant contrasting colors and figures of animals and humans. You can even find sarees with impressive borders embellished with buttas, latkans, silk threads, zari work, beadwork, zardosi work, etc. Once you drape one of these sarees, undoubtedly it will be the most favored dress for any ethnic event or function. The charm and comfort offered by a Chanderi saree cannot be compared with any of the other bulky and grand ethnic wear dresses.
• Ideal For Office Wear:
Chanderi silk sarees are undoubtedly one of the most timeless and classic attire a woman can have. You can buy Chanderi sarees with descent print and design and can flaunt your traditional side at your office space and make heads turn wherever you go.
• Perfect For Gifting Some Loved One:
When you have to purchase a saree for yourself or present it as a gift to a relative or a close friend, you will never go wrong while buying a Chanderi silk saree.
Browse through the exhaustive collection online or contact a Chanderi silk sarees manufacturer in West Bengal to get your desired one! The Chanderi saree manufacturers from West Bengal take pride in delivering the best. The Chanderi sarees they have curated for you are just right whether you wish to use it as party wear, office wear, or casual purposes. You can even count on a reputed Chanderi silk sarees supplier in West Bengal to get excellent designed Chanderi saree of your choice.